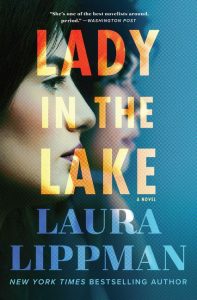 What seemingly small circumstances in life can lead to a life changing or life ending event?

For Cleo Sherwood, seeing Madelyn "Maddie" Schwartz composed and beautiful beside her husband outside their Temple, inspires her to be that type of woman.

For Maddie Schwartz seeing Wallace Wright, an old schoolmate, brings back the memories of her past and the lies she lived and told before her marriage.

Suddenly life with Milton is not what Maddie desires and she starts a fresh as a divorcee and aspiring newspaper writer.

As Maddie tries to become a writer, she gets caught up in the story of Cleo Sherwood and the discovery of her body in the lake.

Who exactly was the "lady in the lake" and why was she murdered?

What does Maddie truly want in life?
Lady in the Lake was uniquely assembled and I liked it.

Maddie is the main point of view and it is written in the 3rd person, but interspersed between her chapters are 1st person narratives for other characters she meets along the way.

It is really interesting to see how their points of views differed from Maddie.

We all have our own unique perspective and understanding which may not always match the world around us.
I enjoyed that the novel was set in 1966 Baltimore and Lippman captured the mood of the times. The novel was wonderful noir set in a sweltering summer season full of mystery.

I also enjoyed that Maddie was a Jewish woman and Cleo was an African American woman.

Maddie also has a forbidden relationship with Ferdie, an African American cop.

The dynamics of racial tensions during the 1960s helped to push the narrative forward.
Laura Lippman's superb writing keep me hooked on this story, but the ending seemed rather abrupt to me.

I really wanted to know how it ended, what happened to Cleo and what will Maddie do with life? I liked that the last chapter was set in 1985 so we ended up seeing what became of Maddie overall.

I thought the ending of Cleo's mystery was very underwhelming.

After I finished the book, I thought about it for awhile and realized the book was more about Maddie's journey to become a woman on her own with her own love and her own career.

She did not want to be stuck in a defined role unable to use her brains and do what she wanted in life.

I really enjoyed her journey.

I just wish we would have gotten more of Cleo's side of the journey.
"Modesty is for people who aren't lucky enough to have things about which to be conceited."
"Every day, Maddie was a little less beautiful than she had been the day before.

Every moment she lived; she was also dying."
"The heart knows nothing, sees nothing, but it kicks up a ruckus, throws tantrums to get what it wants."
Overall, Lady in the Lake is a great noir novel set in the sweltering summer of 1966. It's a great novel of a woman's journey as she leaves behind convention and starts her career at a newspaper trying to solve murders of the time. I couldn't stop reading this book!
Book Source:

Review Copy from William Morrow as part of the TLC Book Tour.

Thank-you! For more stops on the tour, check out this link.
https://tlcbooktours.com/2019/06/laura-lippman-author-of-lady-in-the-lake-on-tour-july-august-2019/
About Lady in the Lake
• Hardcover:
352 pages
• Publisher:
William Morrow (July 23, 2019) The revered
New York Times
bestselling author returns with a novel set in 1960s Baltimore that combines modern psychological insights with elements of classic noir, about a middle-aged housewife turned aspiring reporter who pursues the murder of a forgotten young woman.
In 1966, Baltimore is a city of secrets that everyone seems to know—everyone, that is, except Madeline "Maddie" Schwartz. Last year, she was a happy, even pampered housewife. This year, she's bolted from her marriage of almost twenty years, determined to make good on her youthful ambitions to live a passionate, meaningful life.
Maddie wants to matter, to leave her mark on a swiftly changing world. Drawing on her own secrets, she helps Baltimore police find a murdered girl—assistance that leads to a job at the city's afternoon newspaper, the
Star.
Working at the newspaper offers Maddie the opportunity to make her name, and she has found just the story to do it: a missing woman whose body was discovered in the fountain of a city park lake.
Cleo Sherwood was a young African-American woman who liked to have a good time. No one seems to know or care why she was killed except Maddie—and the dead woman herself. Maddie's going to find the truth about Cleo's life and death. Cleo's ghost, privy to Maddie's poking and prying, wants to be left alone.
Maddie's investigation brings her into contact with people that used to be on the periphery of her life—a jewelry store clerk, a waitress, a rising star on the Baltimore Orioles, a patrol cop, a hardened female reporter, a lonely man in a movie theater. But for all her ambition and drive, Maddie often fails to see the people right in front of her. Her inability to look beyond her own needs will lead to tragedy and turmoil for all sorts of people—including the man who shares her bed, a black police officer who cares for Maddie more than she knows..

Purchase Links
Photo by Leslie Unruh
About Laura Lippman
Since
Laura Lippman's
debut in 1997, she has been recognized as a distinctive voice in mystery fiction and named one of the "essential" crime writers of the last 100 years. Her books have won most of the major awards in her field and been translated into more than twenty languages. She lives in Baltimore and New Orleans with her family. Connect with Laura on her
website
,
Facebook
,
Instagram
, or
Twitter
.