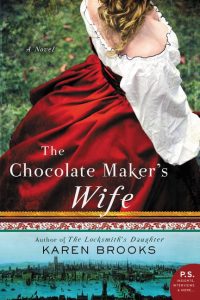 Are you a fan of historical fiction and epic novels?

I have a new favorite novel for you, The Chocolate Maker's Wife by Karen Brooks.

I started reading this book last week and it's the kind of book that I carried everywhere with me to try to sneak in more reading time.

I was intrigued by the story and couldn't stop reading it.

Set in England, in the seventeenth century, The Chocolate Maker's Wife is the story of Rosamund.

Born on the wrong side of the blanket, Rosamund is living with her uncaring mother and abusive stepfather at an inn, trying to remain unnoticed.

While avoiding her stepbrothers, she is involved in an accident that puts her in the path of a gentleman.

Sir Everard Blithman decides he must have her and her mother quickly agrees to the match.

Rosamund is spirited away to London where she now becomes Lady Rosamund Blithman and the Chocolate Maker's wife.

Sir Everard has started a chocolate house to serve the elite hot chocolate.

Rosamund uses her skills from working at the inn and the new chocolate making skills she is taught to become successful in her new role.

What secrets is Sir Everard hiding?

Why is he seeking vengeance against Matthew Lovelace?
I love that this novel was set during Restoration England with King Charles II on the throne. The plot includes the Great London fire of 1666 as well as the plague.

I loved that Rosamund had a fire in her that helped her to make her way in the world while also helping those around her.

This novel reminded me of two of my other favorite books with a strong heroine in a similar time period – Forever Amber by Kathleen Winsor and Through a Glass Darkly by Karleen Koen.

If you are fan of those books or meaty historical fiction in general, you will love this novel.
While I was engrossed with the intrigue, I'll admit that I guessed the dark mysteries early on.

I was more interested in how Rosamund would react to the new information and how it would affect her love story.
Karen Brooks wrote a great author's note at the end of the novel that included a lot of great information about the history of chocolate making as well as the fact that some of the side characters in the novel were actual historical figures.

I had no idea while reading the book and really enjoyed that tidbit at the end.
"After all what's the point of a chocolate house, or a coffee one for that matter, if not to exchange news?"
"What were buildings but the work of man?

And what were buildings if there were no men, women or children to fill them?

To make the walls echo with conversation, arguments, joy, grief, laughter, tears, and above all, love?"
"I was just thinking what a wasted emotion revenge is.

It fills the soul with nothing but darkness."
Overall, The Chocolate Maker's wife is a fascinating historical fiction novel with a strong intriguing heroine set during an enthralling period of history.
Book Source:

Review Copy from William Morrow for being on the TLC Book Tour.

Thank-you! For more stops on this tour, check out this link.
About The Chocolate Maker's Wife
• Paperback:
608 pages
• Publisher:
William Morrow Paperbacks (August 20, 2019)
Australian bestselling novelist Karen Brooks rewrites women back into history with this breathtaking novel set in 17th century London—a lush, fascinating story of the beautiful woman who is drawn into a world of riches, power, intrigue…and chocolate.
Damnation has never been so sweet...
Rosamund Tomkins, the illegitimate daughter of a nobleman, spends most of her young life in drudgery at a country inn. To her, the Restoration under Charles II, is but a distant threat as she works under the watchful eye of her brutal, abusive stepfather . . . until the day she is nearly run over by the coach of Sir Everard Blithman.
Sir Everard, a canny merchant, offers Rosamund an "opportunity like no other," allowing her to escape into a very different life, becoming the linchpin that will drive the success of his fledgling business: a luxurious London chocolate house where wealthy and well-connected men come to see and be seen, to gossip and plot, while indulging in the sweet and heady drink.
Rosamund adapts and thrives in her new surroundings, quickly becoming the most talked-about woman in society, desired and respected in equal measure.
But Sir Everard's plans for Rosamund and the chocolate house involve family secrets that span the Atlantic Ocean, and which have already brought death and dishonor to the Blithman name. Rosamund knows nothing of the mortal peril that comes with her new title, nor of the forces spinning a web of conspiracy buried in the past, until she meets a man whose return tightens their grip upon her, threatening to destroy everything she loves and damn her to a dire fate.
As she fights for her life and those she loves through the ravages of the Plague and London's Great Fire, Rosamund's breathtaking tale is one marked by cruelty and revenge; passion and redemption—and the sinfully sweet temptation of chocolate.

Purchase Links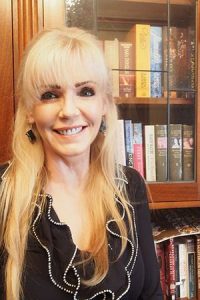 Photo by Stephen Brooks
About Karen Brooks
Karen Brooks is the author of twelve books, an academic of more than twenty years' experience, a newspaper columnist and social commentator, and has appeared regularly on national TV and radio. Before turning to academia, she was an army officer for five years, and prior to that dabbled in acting. She lives in Hobart, Tasmania, in a beautiful stone house with its own marvellous history. When she's not writing, she's helping her husband Stephen in his brewery, Captain Bligh's Ale and Cider, or cooking for family and friends, travelling, cuddling and walking her dogs, stroking her cats, or curled up with a great book and dreaming of more stories. Find out more about Karen at her
website
, and connect with her on
Facebook
and
Twitter
.
I was accidentally mailed two Advance Reader Edition's of The Chocolate Maker's Wife so I am going to give one of them away! If you would like to win this book, please leave a comment on what interests you about this book. Have you ever read a book about chocolate or the Restoration? If so, which one, and what did you enjoy about it?
As part of your comment, you must include an email address. If I can't find a way to contact you I will draw another winner.
For an additional entry, blog about this giveaway or post it on your sidebar. Provide a link to this post in your comment.

I will be using random.org (or a Monte Carlo simulation in excel) to pick the winners from the comments.

This contest is only open to addresses in the United States.

The deadline for entry is midnight on Friday September 13th!

Please make sure to check the week of September 16th to see if you are a winner. I send emails to the winner, but lately I've been put in their "junk mail" folder instead of their inbox.

Good luck!