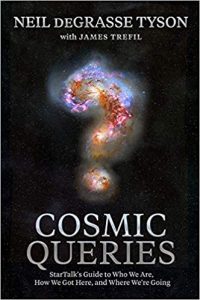 Cosmic Queries has the subtitle "StarTalk's Guide to Who We Are, How We Got Here, and Where We're Going." I've listened to and enjoyed StarTalk a couple of times and have enjoyed Neil DeGrasse Tyson's interviews on various programs. I love science, but I don't know that much about astrophysics. I thought it was a good time to learn more.
Cosmic Queries is written in an interesting and humorous manner and I read through it quickly. It is written for someone like me who likes science but is not an expert in astrophysics. It goes through the history of the study of astrophysics, what makes up the universe, life in the universe, and the beginning and end of the universe.
Sections of the book are short and interesting, and the pictures are beautiful. Interspersed throughout are funny tweets from Neil DeGrasse Tyson. There were also interesting side bars often with biographies of important people in astrophysics, such as a tidbit about Henrietta Leavitt. She worked as a human computer at Harvard in the late 1800s and made a major breakthrough in astrophysics. Of course, the work was published under a man's name and she did not get credit until after her death. I also loved reading about Galileo. His story fascinates me.
Favorite Quote:
"Just because you can't figure out how ancient civilizations-built stuff, doesn't mean they got help from Aliens." - Don't tell this to my Dad!!
Overall, Cosmic Queries is a fascinating and often humorous book about the history and future of astrophysics. I greatly enjoyed it!
Book Source: Review Copy from Hachette Books as part of the TLC Book Tour. Thank-you! For more stops on this tour, check out this link.
About Cosmic Queries
• Publisher
: National Geographic (March 2, 2021)
• Hardcover: 312 Pages
In this thought-provoking follow-up to his acclaimed StarTalk book, uber astrophysicist Neil deGrasse Tyson tackles the world's most important philosophical questions about the universe with wit, wisdom, and cutting-edge science.
For science geeks, space and physics nerds, and all who want to understand their place in the universe, this enlightening new book from Neil deGrasse Tyson offers a unique take on the mysteries and curiosities of the cosmos, building on rich material from his beloved StarTalk podcast.
In these illuminating pages, illustrated with dazzling photos and revealing graphics, Tyson and co-author James Trefil, a renowned physicist and science popularizer, take on the big questions that humanity has been posing for millennia--How did life begin? What is our place in the universe? Are we alone?--and provide answers based on the most current data, observations, and theories.
Populated with paradigm-shifting discoveries that help explain the building blocks of astrophysics, this relatable and entertaining book will engage and inspire readers of all ages, bring sophisticated concepts within reach, and offer a window into the complexities of the cosmos.
For all who loved National Geographic's
StarTalk
with Neil deGrasse Tyson,
Cosmos: Possible Worlds,
and
Space Atlas,
this new book will take them on more journeys into the wonders of the universe and beyond.

Purchase Links
About Neil DeGrasse Tyson
Legendary astrophysicist NEIL DEGRASSE TYSON is the host of the popular podcast StarTalk Radio and Emmy award-winning National Geographic Channel shows
StarTalk
and
Cosmos
. He earned his BA in physics from Harvard and his Ph.D. in astrophysics from Columbia. The author of more than a dozen books, including the best-selling
Astrophysics for People in a Hurry
, Tyson is the first Frederick P. Rose Director of the Hayden Planetarium. He lives in New York City with his wife and two children. Follow him on
Instagram
,
Twitter
,
Facebook
, and
TikTok
.