The Gown was a delightful book that I literally couldn't put down.

I was so engrossed in the story, I had a hard time going to bed at night as I just wanted to keep reading it.

I thought I would enjoy the book from its premise, but Robson wrote a gripping story with intriguing characters that kept me riveted.
The Gown has three viewpoints and takes place in two different time periods.

The novel opens in post WWII London in 1947.

Times are still rough with English citizens still being rationed for clothing and food as they try to rebuild from the upheaval of war.

Ann Hughes has lost her family in the war and her one remaining relative, her sister-in-law, decides to emigrate to Canada.

Ann is left alone, but adores her job working for top British designer, Norman Hartnell as a skilled embroiderer.

Hartnell is the designer for the queen of England herself.

Ann is more than a little excited when Hartnell is selected to be the designer for Princess Elizabeth's wedding gown.
Miriam Dassin has moved to England from France trying to put the horrors of war behind her.

What did Miriam and her family have to endure?

Miriam becomes friends with Ann and brings her artistic skills to life.
Heather Mackenzie lives in Toronto in 2016.

Her beloved grandmother has just passed away and she is trying to figure out why she left a box of people embroidery that matches Queen Elizabeth II's wedding dress to her.

As Heather digs into her grandmother's life, will she find what she is looking for?
I love Ann, Miriam, and Heather's viewpoints.

I was partial to the viewpoints set in the past, but I enjoyed Heather's as well as she ties up the story of what happened to Ann and Miriam in the future.

I enjoyed that the novel put the spotlight on the regular women who worked on a wedding dress that was seen all over the world.

I'll admit that I love reading and watching royal weddings, so this book was right up my ally.

I'll also admit that I've never really thought about all the work that goes into making the beautiful wedding gowns.
For historical fiction, I really liked how this book focused on 1947 and highlighted how times were still tough in Britain.

I've always just assumed things were okay as they were in the US, but it makes sense that in a country that had been bombarded for years that it would take a while to rebuild.
"The peony lived on in her memory.

She could see it so clearly, its petals glowing and bright and perfect.

Unchanged.

Whole and alive."
"She had said good-buy to her Nan, without really knowing what she was doing, for there was so much to tell her, still, and now she would never get the chance.

She had never once imagined it would be good-bye."
"She did not, and you were the one who saw the ray of light peeking through, and you were the one to open the door.

It is past time that she, along with all of us who made the gown, be recognized for our work."
Overall, The Gown is not to miss historical fiction in 2019 with great characters, story, and setting!
Book Source:

Review Copy from William Morrow.

Thanks!
For more reviews, check out the TLC Book Tours Schedule located at this link.
About The Gown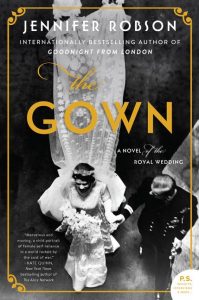 • Hardcover:
400 pages
• Publisher:
William Morrow (December 31, 2018)
"The Gown is marvelous and moving, a vivid portrait of female self-reliance in a world racked by the cost of war."--Kate Quinn, New York Times bestselling author of The Alice Network
From the internationally bestselling author of
Somewhere in France
comes an enthralling historical novel about one of the most famous wedding dresses of the twentieth century—Queen Elizabeth's wedding gown—and the fascinating women who made it.
"Millions will welcome this joyous event as a flash of color on the long road we have to travel."
—Sir Winston Churchill on the news of Princess Elizabeth's forthcoming wedding
London, 1947: Besieged by the harshest winter in living memory, burdened by onerous shortages and rationing, the people of postwar Britain are enduring lives of quiet desperation despite their nation's recent victory. Among them are Ann Hughes and Miriam Dassin, embroiderers at the famed Mayfair fashion house of Norman Hartnell. Together they forge an unlikely friendship, but their nascent hopes for a brighter future are tested when they are chosen for a once-in-a-lifetime honor: taking part in the creation of Princess Elizabeth's wedding gown. Toronto, 2016: More than half a century later, Heather Mackenzie seeks to unravel the mystery of a set of embroidered flowers, a legacy from her late grandmother. How did her beloved Nan, a woman who never spoke of her old life in Britain, come to possess the priceless embroideries that so closely resemble the motifs on the stunning gown worn by Queen Elizabeth II at her wedding almost seventy years before? And what was her Nan's connection to the celebrated textile artist and holocaust survivor Miriam Dassin?
With The Gown
, Jennifer Robson takes us inside the workrooms where one of the most famous wedding gowns in history was created. Balancing behind-the-scenes details with a sweeping portrait of a society left reeling by the calamitous costs of victory, she introduces readers to three unforgettable heroines, their points of view alternating and intersecting throughout its pages, whose lives are woven together by the pain of survival, the bonds of friendship, and the redemptive power of love..

Purchase Links
Photo by Natalie Brown/Tangerine Photo
About Jennifer Robson
Jennifer Robson is the USA Today and #1
Toronto Globe & Mail
bestselling author of
Somewhere in France, After the War is Over
and
Moonlight Over Paris.
She holds a doctorate from Saint Antony's College, University of Oxford. She lives in Toronto with her husband and young children. Find out more about Jennifer at her
website
, and connect with her on
Facebook
,
Instagram
, and
Twitter
.
GIVEAWAY
One lucky winner has a chance to win a copy of the Advance Reader's Edition of The Gown By Jennifer Robson. I accidentally received two to review so I figured I would give the extra copy away! If you would like to win this book, please leave a comment on what interests you about this book. Do you have a favorite designer or royal wedding gown??
As part of your comment, you must include an email address. If I can't find a way to contact you I will draw another winner.

For an additional entry, blog about this giveaway or post it on your sidebar. Provide a link to this post in your comment.

I will be using random.org (or a Monte Carlo simulation in excel) to pick the winners from the comments.

This contest is only open to addresses in the United States.

The deadline for entry is midnight on Friday January 25th!

Please make sure to check the week of January 28th to see if you are a winner. I send emails to the winner, but lately I've been put in their "junk mail" folder instead of their inbox.

Good luck!