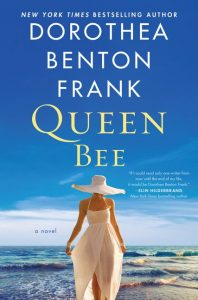 Holly McNee Jenson is a beekeeper on Sullivan's Island in South Carolina.

She is a single thirty-year-old woman who lives with and takes care of her cranky mother, the Queen Bee.

Holly is great with kids and would love to be a teacher, but the wait list at the Sullivan's Island elementary school is extensive and puts that dream out of her reach.

She uses her love for children to help out her neighbor Archie who lost his beloved wife less than a year before.

Tyler and Hunter love Holly and her cooking.

Holly would love to have a relationship with Archie, but unfortunately, he starts to date another woman.

Will Holly get her happy ending?
At the same time Holly is struggling to figure out her story, her mother's golden child, Leslie has returned home after a stunning revelation has left her marriage in turmoil.

Will Leslie and Charlie be able to work things out?

Will the Queen Bee be able to figure out how to find happiness rather than negativity in life?
Queen Bee is narrated from a first-person point of view.

The chapters all started with a tidbit about bees, which I found very interesting.

Most of the chapters are from Holly's point of view, but a few are from Leslie's as well.

I loved that the story had a small southern town feel to it where Holly is quick to make friends and knows the locals.

I also like how Holly is trying to find her purpose in life.

I did wonder how her and her mother were making a living before she got her job at the grocery story.

The family dynamic was interesting and I really enjoyed how the three main ladies progressed in their personal growth throughout the story.

I am a fan of magical realism and I was delighted when Holly's bees seemed to understand her stories to them and take matters into their own hands.

I was very annoyed at Archie through the novel, but the story grabbed me and held me in its grip until the end. This novel had a great sense of humor as well.
"'I know.

It was terrible.

But I think we're meant to help each other when life gets too difficult, don't you?'
'If we're able to, yes.

It's one of the beautiful things about humanity.

We actually can lift each other up.

Ease someone's burden.

And it's just, well, it's just nice to help others.

There's a special joy to be found in service.

You know, being useful.

Like your hives."
"I knew what loneliness tasted like.

It was bitter, and you wanted to hide it because complaining about it made you look weak and pathetic.
Overall, The Queen Bee is an enjoyable summer novel.

I'm super stressed by work and life right now, and The Queen Bee is exactly what I need to find a way to unwind.

It's a unique family drama and I greatly enjoyed it.
Book Source:

Review Copy from William Morrow Books for being a part of the TLC Book Tour.

Thank-you! For more stops on this tour, check out this link.
About Queen Bee
• Hardcover:
432 pages
• Publisher:
William Morrow (May 28, 2019)
Immerse yourself in the enchanting world of
New York Times
bestselling author Dorothea Benton Frank's Carolina Lowcountry in this evocative tale that returns at long last to her beloved Sullivan's Island.
Beekeeper Holly McNee Kensen quietly lives in a world of her own on Sullivan's Island, tending her hives and working at the local island library. Holly calls her mother The Queen Bee because she's a demanding hulk of a woman. Her mother, a devoted hypochondriac, might be unaware that she's quite ill but that doesn't stop her from tormenting Holly. To escape the drama, Holly's sister Leslie married and moved away, wanting little to do with island life. Holly's escape is to submerge herself in the lives of the two young boys next door and their widowed father, Archie.
Her world is upended when the more flamboyant Leslie returns and both sisters, polar opposites, fixate on what's happening in their neighbor's home. Is Archie really in love with that awful ice queen of a woman? If Archie marries her, what will become of his little boys? Restless Leslie is desperate for validation after her imploded marriage, squandering her favors on any and all takers. Their mother ups her game in an uproarious and theatrical downward spiral. Scandalized Holly is talking to her honey bees a mile a minute, as though they'll give her a solution to all the chaos. Maybe they will.
Queen Bee
is a classic Lowcountry Tale—warm, wise and hilarious, it roars with humanity and a dropperful of whodunit added for good measure by an unseen hand. In her twentieth novel, Dorothea Benton Frank brings us back to her beloved island with an unforgettable story where the Lowcountry magic of the natural world collides with the beat of the human heart.

Purchase Links
Photo by Debbie Zammit
About Dorothea Benton Frank
New York Times
bestselling author Dorothea Benton Frank was born and raised on Sullivans Island, South Carolina. She resides in the New York area with her husband. Find her on the web at
www.dotfrank.com
, or like her on
Facebook
,
Twitter
, or
Instagram
.