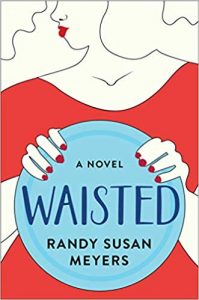 What would you do to lose weight and have the perfect body?

Daphne and April are two women in a crisis of life.

Daphne has a great husband, a job she loves, and two teenage kids.

But she can't help but feel self-conscious about her shape, especially with her mother constantly harping on her.

April has a great husband and a beloved young daughter, but after her husband admits that he no longer finds her attractive due to her weight, she takes drastic measures to change it.
Both women enroll in "Waisted," a documentary where women are taken to a remote mansion and they work on drastic weight loss.

What they thought would be a comforting retreat to learn about weight loss, turns into so much more as verbal abuse takes place. When women learn the true nature of the documentary, they know it is time to take action.
I'll admit, I thought at the start that this was a cliché book about fat people, but it turned into so much more.

There were a lot of scenes at the start of Daphne and April sneaking treats and that was what made them overweight or fat.

But as a woman who has struggled with weight my entire life, I know it's harder than that.

I basically have to look at sweets and I gain a few pounds.

Luckily as the book went on, it really dove into this issue and how much emphasis is put on women's weight by society.
A high school friend of mine passed away yesterday from Anorexia.

She has struggled with it since we were in high school.

She was a beautiful girl, but she struggled with this huge issue.

It is a hard issue for women.

I found it strangely ironic that I was just pondering it when she passed away.
I've also been struggling with my own family's obsession with weight and constant commenting about it.

I could really connect with Daphne in this story, but for me it's my Dad, Grandma, and that side of the family that is always talking about it.
I love how after being a part of Waisted, the novel delves into domestic issues and how Daphne and April are able to come back to their regular lives.

Will they be able to keep the weight off?

How will they deal with their body issues?

What will their families think?

I've read a novel by Meyers before and she is excellent writing about family drama and marital relationships.

This was the best part of the novel.

It had an excellent final narrative to the story.
"The world treated fat people like out-of-control horrors, when, in fact, those who inherited tendencies toward being heave exerted ten times as much control as the genetically thin even if all they wanted was to stay plum instead of fat."
"'But you can always choose what kind of person you'll be.

Concentrate on that.'
"Not just being good, but being smart and strong and finding your special talents."
Overall, Waisted takes a good look at weight, society's expectations, and how women are able to deal with it.

It was a great story and one that I think every woman should read.
Book Source:

Review Copy for being a part of the TLC Book Tour.

Thank-you! For more stops on this tour, check out this link.

About Waisted
• Hardcover:
288 pages
• Publisher:
Atria Books (May 21, 2019) In this provocative, wildly entertaining, and compelling novel, seven women enrolled in an extreme weight loss documentary discover self-love and sisterhood as they enact a daring revenge against the exploitative filmmakers.
Alice and Daphne, both successful and accomplished working mothers, harbor the same secret: obsession with their weight overshadows concerns about their children, husbands, work—and everything else of importance in their lives. Scales terrify them.
Daphne, plump in a family of model-thin women, learned only slimness earns admiration at her mother's knee. Alice, break-up skinny when she met her husband, risks losing her marriage if she keeps gaining weight.
The two women meet at Waisted. Located in a remote Vermont mansion, the program promises fast, dramatic weight loss, and Alice, Daphne, and five other women are desperate enough to leave behind their families for this once-in-a-lifetime opportunity. The catch? They must agree to always be on camera; afterward, the world will see
Waisted: The Documentary
.
The women soon discover that the filmmakers have trapped them in a cruel experiment. With each pound lost, they edge deeper into obsession and instability...until they decide to take matters into their own hands.

Purchase Links
About Randy Susan Meyers
Randy Susan Meyers is the bestselling author of
Waisted
,
Accidents of Marriage, The Comfort of Lies,
The Murderer's Daughters
, and
The Widow of Wall Street
. Her books have twice been finalists for the Mass Book Award and named "Must Read Books" by the Massachusetts Center for the Book. She lives with her husband in Boston, where she teaches writing at the Grub Street Writers' Center. Find out more about Randy at her
website
, and connect with her on
Facebook
,
Twitter
, and
Instagram
.