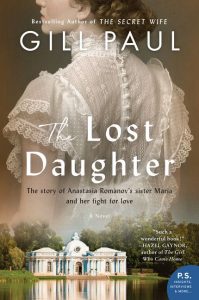 A family with their five children were gunned down in the night.

This would be a tragedy in any age, but when this tragedy befell the Romanovs, the last ruling family in Russia, it's a tragedy that has captured the public's imagination for the past 100 years.

The question always lingers, did any of the family survive?
I have been intrigued by this mystery since I was a young girl.

I remember watching an Unsolved Mysteries episode about it in my youth.

This led me to read books about Anastasia and the Romanovs.

I was sure Anastasia had survived.

I was devastated when the bodies were found, but I always still have the hope that someone did survive.
The Lost Daughter tells two parallel stories.

Maria is the middle daughter of the Romanov family.

She feels unloved at times by her family, and the stress of the imprisonment.

She is a vivacious teenager and dreams of romance.

She tries to befriend their guards, but it leads to trouble for both herself and her family.

When the fateful night occurs, it is her friendship with her guards that allows her to survive.

Trying to keep her history secret, Maria lives through tumultuous times in Russia and through great love and lose.

Will Maria's secret get out?

Will her family survive?
Val Doyle is a housewife in 1970's Australia.

She grew up with an abusive father and an absent mother.

As an adult she has a beloved daughter, but she is married to an abusive man.

After getting a phone call from a nursing home about her estranged father, Val discovers that he has been telling everyone that he didn't mean to hurt anyone and about blood everywhere.

Val starts to dig into her past.

Where did her mother go?

What is her father talking about?

What is his mysterious past in Russia?

Will Val be able to set herself free from her abusive husband?
I LOVED this novel and couldn't put it down over the Labor Day weekend.

It was a wonderful historical fiction story that gave a great insight into what life in Russia was like during the revolution and immediately afterwards.

It gave me a lot to think about.

The personal stories of both Maria and Val were both riveting.

Sometimes in duel narratives, one story is stronger than the other.

In this case, both narratives were equally intriguing and I found myself constantly wondering what would happen next in both stories.

I loved that Val had a coming of age story in her 30's to really discover her past and who she is moving forward.

I would love to read more novels written by Gil Paul.
"One day he would realize what it was like to be a parent; one day he would feel the visceral tug on your heartstrings when you were apart from any one of them."
Overall, The Lost Daughter is a riveting historical fiction novel that seamlessly blends two stories to tell a fantastic story of Russia during and after the revolution, and of two women finding themselves.
Book Source:

Review Copy from William Morrow for being on the TLC Book Tour.

Thank-you! For more stops on this tour, check out this link.
Note – I've turned on review for comments as someone spent all of last night putting 600 plus Viagra links on various blog postings on my blog.
About The Lost Daughter
• Paperback:
496 pages
• Publisher:
William Morrow Paperbacks (August 27, 2019)
If you loved I Am Anastasia by Ariel Lawhon you won't want to miss this novel about her sister, Grand Duchess Maria. What really happened to this lost Romanov daughter? A new novel perfect for anyone curious about Anastasia, Maria, and the other lost Romanov daughters, by the author of The Secret Wife.
1918
: Pretty, vivacious Grand Duchess Maria Romanov, the nineteen-year-old daughter of the fallen Tsar Nicholas II, lives with her family in suffocating isolation, a far cry from their once-glittering royal household. Her days are a combination of endless boredom and paralyzing fear; her only respite are clandestine flirtations with a few of the guards imprisoning the family—never realizing her innocent actions could mean the difference between life and death
1973
: When Val Doyle hears her father's end-of-life confession, "I didn't want to kill her," she's stunned. So, she begins a search for the truth—about his words and her past. The clues she discovers are baffling—a jewel-encrusted box that won't open and a camera with its film intact. What she finds out pulls Val into one of the world's greatest mysteries—what truly happened to the Grand Duchess Maria?.

Purchase Links
About Gill Paul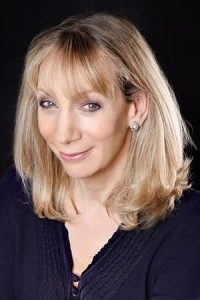 Gill Paul
is an author of historical fiction, specialising in relatively recent history. She has written two novels about the last Russian royal family:
The Secret Wife
, published in 2016, which tells the story of cavalry officer Dmitri Malama and Grand Duchess Tatiana, the second daughter of Russia's last tsar; and
The Lost Daughter
, published in October 2018, that tells of the attachment Grand Duchess Maria formed with a guard in the house in Ekaterinburg where the family was held from April to July 1918.
Gill's other novels include
Another Woman's Husband
, about links you may not have been aware of between Wallis Simpson, later Duchess of Windsor, and Diana, Princess of Wales;
Women and Children First,
about a young steward who works on the
Titanic
;
The Affair,
set in Rome in 1961–62 as Elizabeth Taylor and Richard Burton fall in love while making
Cleopatra
; and
No Place for a Lady
, about two Victorian sisters who travel out to the Crimean War of 1854–56 and face challenges beyond anything they could have imagined.
Find out more about Gill at her
website
, and connect with her on
Twitter
and
Instagram
.