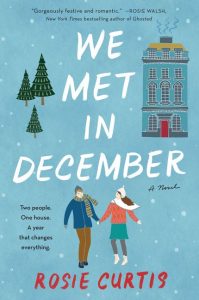 Christmas books are one of my favorite genres.

I also love Christmas movies.

Rosie Curtis's, We Met in December is a perfect mesh of both of my favorites as it is a year long romance set in London that has shades of Love Actually and One Day in December by Josie Silver.
Jess has decided to follow her dreams and move to London to pursue a career in the publishing world.

She is lucky and has a friend, Becky, who inherited a beautiful old home in Notting Hill and has opened it up to friends with super low rent.

Jess meets one of her new house mates, Alex, and they hit it off right away.

Jess then leaves for a two-week Christmas ski break with her two best friends.

When she returns, she discovers that Alex and another roommate, Emma, and apparently started a relationship much to her disappointment.

Jess tries to find her way in London while not feeling bad about leaving her Nanna Beth on her own, and tries to move on with her love life without thinking about Alex.

Alex in the meantime has left a successful job as a lawyer to retrain as a nurse, a job he feels much more passionate about.

This has lost him is fiancée and is why he has moved into the house.

He definitely does not want to start a new romance, but things do not go as planned.

Will Alex and Jess be able to sort through life and find each other?
I enjoyed this novel. My favorite part of the novel was all of the characters.

The novel alternated between Jess and Alex's point of view.

Jess had a lot of side characters including her best friends, Nana Beth, and her mother that I enjoyed reading more about.

I loved how Alex showed Jess all over London and the developed a friend relationship.

I wish at times we would have learned more about whether Jess was getting things figured out with her new job and whether she enjoyed it or not.

She seemed really stressed about it.

I loved the journey in this novel as two people determined what they wanted in life and moved forward with their plans and each other.
"The thing about being addicted to a certain kind of romantic movie is that you're always half-expecting that your life might just suddenly take a turn for the better."
"I think about Nana Beth, and how she told me to remember I only have one life and that I should leave it with as few regrets as possible."
"And being together with the wrong person was a million times worse than being single."
Overall, We Met in December is an enjoyable Christmas novel set in London that explores two people starting new careers and the journey it takes for them to be together.
Book Source:

Review Copy from William Morrow for being a part of the TLC Book Tour.

Thank-you! For more stops on this tour, check out this link.
About We Met in December
• Paperback:
400 pages
• Publisher:
William Morrow Paperbacks (November 5, 2019)
Following a year in the life of a twenty-something British woman who falls hard for her London flat mate, this clever, fun, and unforgettable romantic comedy is the perfect feel-good holiday read.
Two people. One house. A year that changes everything.
Twenty-nine-year-old Jess is following her dream and moving to London. It's December, and she's taking a room in a crumbling, but grand, Notting Hill house-share with four virtual strangers. On her first night, Jess meets Alex, the guy sharing her floor, at a Christmas dinner hosted by her landlord. They don't kiss, but as far as Jess is concerned the connection is clear. She starts planning how they will knock down the wall between them to spend more time together.
But when Jess returns from a two-week Christmas holiday, she finds Alex has started dating someone else—beautiful Emma, who lives on the floor above them. Now Jess faces a year of bumping into (hell, sharing a bathroom with) the man of her dreams…and the woman of his.

Purchase Links
About Rosie Curtis
Rosie Curtis was born in the Highlands of Scotland, and now lives with her family in a 150 year old house by the sea in the north west of England. She loves travel, happy ever after stories, and daydreaming. Her favourite book character is a toss up between Anne Shirley and Jo March. Rosie also writes adult and teen fiction as Rachael Lucas.