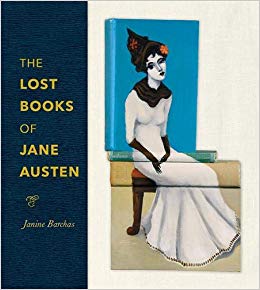 The Lost Books of Jane Austen is a beautiful coffee table book that would make the perfect Christmas gift for any Jane Austen fan.
The Lost Books of Jane Austen tells the story of the many different editions of Austen's novels over time of and how they led to her popularity amongst the masses.

It includes beautiful pictures of these editions and detailed histories.

I was enthralled reading about these editions of my favorite author's books.

This book can be a straightforward read or you can easily flip to different pages and sections and read a quick blurb.
I loved in the introduction when author Janine Barchas related a story where her daughter's teacher was distressed when the kids in her sixth-grade class all thought Darcy was a vampire.

This notion that was caused by the edition they were reading that was marketed to look like one of Stephanie Meyer's twilight novels. That gave me a good laugh.
Part of what I loved about this book is that Janine Barchas is an antique book lover after my own heart.

In her search for Austen novels of all types, she also likes to look at the inscriptions in the books and research who the readers of these novels were.

There is nothing like going to an antique store and buying an antique book.

I loved to read the old inscriptions and think about who read the book before.

Barchas took this a step further by going through census and researching who these early readers of Austen actually were.

I was fascinated.
I also thought it was great that even though Mark Twain was very critical of Jane Austen, his home contained many editions of Austen's novels.
Barchas explored how the different printings of Austen helped to make her so popular.

Her works were printed in paperback much earlier than I thought, 1850s, that would then be sold at train stations and other places for very cheap for the working class to afford.

Editions of Sense and Sensibility and Pride and Prejudice were used to market soap in the 1890s. The author found versions of Austen's novels that were rebound with other covers than what they originally came with for various reasons.

The author also explores how paintings were used to class up the editions of the novel.

I in particular was confused by the Lady Godiva version of Pride and Prejudice.

How does Lady Godiva have anything to do with Pride and Prejudice?

I like the author's thought that it could be poor Jane on her sad rainy ride to Netherfield . . . but I'm not sure what happened to her clothes.

I also enjoyed the last chapter where it discusses how Austen's novels have been turned into "chick lit."

I have always found it strange that books that were once carried in the trenches by soldiers in WWI are now considered as novels only for females.

I thought the entire book was intriguing.
"Cheap books make authors canonical."
Overall, The Lost Books of Jane Austen is a fascinating book about the many forms that Austen's novels have taken over the years.

It interesting how the novel resonates for centuries and finds itself constantly rebranded.
Book Source:

Review Copy from John Hopkins University Press for being a part of the TLC Book Tour.

Thank-you! For more stops on this tour, check out this link.
About The Lost Books of Jane Austen
• Hardcover:
304 pages
• Publisher:
Johns Hopkins University Press (October 8, 2019)
In the nineteenth century, inexpensive editions of Jane Austen's novels targeted to Britain's working classes were sold at railway stations, traded for soap wrappers, and awarded as school prizes. At just pennies a copy, these reprints were some of the earliest mass-market paperbacks, with Austen's beloved stories squeezed into tight columns on thin, cheap paper. Few of these hard-lived bargain books survive, yet they made a substantial difference to Austen's early readership. These were the books bought and read by ordinary people.
Packed with nearly 100 full-color photographs of dazzling, sometimes gaudy, sometimes tasteless covers,
The Lost Books of Jane Austen
is a unique history of these rare and forgotten Austen volumes. Such shoddy editions, Janine Barchas argues, were instrumental in bringing Austen's work and reputation before the general public. Only by examining them can we grasp the chaotic range of Austen's popular reach among working-class readers.
Informed by the author's years of unconventional book hunting,
The Lost Books of Jane Austen
will surprise even the most ardent Janeite with glimpses of scruffy survivors that challenge the prevailing story of the author's steady and genteel rise. Thoroughly innovative and occasionally irreverent, this book will appeal in equal measure to book historians, Austen fans, and scholars of literary celebrity.
.

Purchase Links
About Janine Barchas
Janine Barchas
is the Louann and Larry Temple Centennial Professor of English Literature at the University of Texas at Austin. She is the author of
Matters of Fact in Jane Austen: History, Location, and Celebrity
and
Graphic Design, Print Culture, and the Eighteenth-Century Novel
. She is also the creator behind What Jane Saw (
www.whatjanesaw.org
).