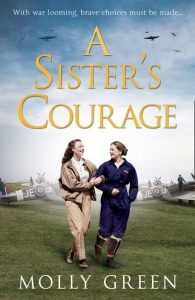 Raine Linfoot has one goal in life, to become a pilot.

She is a proper teenager in 1939 England and her French mother wants her to have nothing to do with flying.

Through her sheer determination, work, and the help of her father, Raine is able to get a job at the local air field and pay for flying lessons.

She has a school girl crush on her instructor Doug, but he disappears in France after he joins the RAF.

Broken hearted, she meets the attractive and infuriating Alec. Will she be able to open her heart to love again?

And will she be able to be help her country out as a woman pilot?
I have always loved to read about aviation and in particular, woman in aviation since I was a child.

My Great-Grandfather taught aviation during World War II in America.

My Great-Uncle and Grandpa used to tell me all sorts of stories about my Great Grandpa and how he met Amelia Earhart and Orville Wright.

That lead me to read all about them and others in aviation.

My family loves to visit the Air Zoo aviation museum in Kalamazoo Michigan, which has a display about American female aviation heroes during WWII.
I thought this book was fascinating as it was from the British prospective and told the story of the important British women who helped to fly airplanes during the war.

They were not allowed to fly on the front lines, but they were able to fly planes to their destinations to efficiently make sure they were ready for men to fly to the front lines.

These ladies faced dangers and were also victims of prejudice and sexual harassment.

I really enjoyed Raine's story and the story of her friends.

I liked the romance too, although I was sad about poor Doug.
An important part of Raine's story was her family.

She is the oldest of three sisters and has a very difficult relationship with her mother.

I felt like at the end of the novel I wanted to know more about what would happen and that the story wasn't finished.

Luckily at the end of the novel was an excerpt for book two about Raine's sister Suzanne.

I want to know more about these characters!
"Enjoy yourself while you can, is my motto, and that's even more crucial with this war on.

You could be here today and gone tomorrow."
Overall, A Sister's Courage is a great story about the courageous women pilots of the Air Transport Auxiliary in Great Britain during WWII.
Book Source:

Review Copy from Avon Harper Collins as a part of the TLC Book Tour! For more stops on this tour, check out this link.
About A Sister's Courage
• Paperback:
400 pages
• Publisher:
Avon (January 21, 2020)
It's 1939 and the threat of war hangs over Britain…
The most ambitious of three sisters, Lorraine 'Raine' Linfoot always dreamed of becoming a pilot. As a spirited seventeen-year-old, she persuades her hero Doug Williams to teach her to fly. When war breaks out in 1939, Raine is determined to put her skills to good use. She enlists in the Air Transport Auxiliary, becoming one of a handful of brave female pilots flying fighter planes to the men on the front line. Raine embraces the challenges of the job, despite its perils. But when Doug is reported missing after his Spitfire is shot down, she realises the war could tear apart not only her country, but also her heart…
A gripping story of family, friendship and courage, perfect for fans of Natasha Lester, Lizzie Page and Call the Midwife.
.

Purchase Links
About Molly Green
Molly Green is a seasoned author of fiction and non-fiction. She has sold lipstick in a Denver store, modelled in Atlanta, assisted the UN Narcotics Director in Geneva, chauffeured a Swiss Gnome in Zurich, assisted a famous film producer in the UK, and cooked in a sanatorium in Germany. She now lives and writes in Tunbridge Wells, Kent.