Consuelo Vanderbilt is a beautiful young girl in love during the springtime of her life.

But her strong-willed mother, Alva, does not want Consuelo to marry her true love and has her sights set much higher.

Alva has decided Consuelo must marry to build her family's prestige using their wealth to entice a titled suitor.

Alva takes Consuelo on a European tour and Consuelo meets the Duke of Marlborough, the only non-royal in England to own a palace.

Consuelo is horrified to discover that her mother has set her sights on making Consuelo the future Duchess of Marlborough.

How will she survive marrying a man she doesn't love?
American Duchess is told from a first-person point of view as Consuelo navigates her life.

It tells her story from a teen through her life as an older woman.

She had quite the adventure as a Duchess and a lifetime goal of helping others.

She was a loving mother and really wanted to find true love in her life.

She also worked on repairing the difficult relationship she had with her mother.

I also was very intrigued with her friendship with her husband's cousin, Winston Churchill.
My favorite part of the novel was the end of the novel as Consuelo and her second husband Jacques escape from France as the Nazis invade.

It was a harrowing and fast paced read.

I enjoyed this novel, but I did kind of wish the rest of the novel would have been written with this intensity.

With so much packed into this book, sometimes the focus was lost.

In particular with Consuelo and the Duke's relationship.

The difficulties between the two were not that pronounced in this novel.
I also thought the first chapter did an excellent job of pulling the reader into the story with Consuelo breaking down and being forced into her marriage with the Duke. She was in a horrible situation.
The end of the novel also has a section about the author, the inspiration and sources for the book, and a reading discussion guide.

I always enjoy this additional information, especially for a historical fiction novel.
I am a giant fan of Downton Abbey. This book really reminded me of that series, Consuelo would have been a contemporary of Cora from Downton Abbey. I also love the novel The Buccaneers by Edith Wharton and I loved that Wharton is a character in this novel.
"'I like the sighing sound of the wind in the big trees here,' he said, and I realized that was the most romantic, poetic thing he had ever said to me."
Overall, American Duchess tells the story of a remarkable woman, Consuelo Vanderbilt, and her life journey through intriguing times in our history.
Book Source:

Review Copy from William Morrow Books for being a part of the TLC Book Tour.

Thank-you! For more stops on this tour, please check out this link.
About American Duchess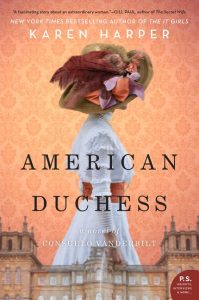 • Hardcover:
368 pages
• Publisher:
William Morrow (February 26, 2019)
Before there was Meghan Markle, there was Consuelo Vanderbilt, the original American Duchess. Perfect for readers of Jennifer Robson and lovers of Downton Abbey.
Karen Harper tells the tale of Consuelo Vanderbilt, her "The Wedding of the Century" to the Duke of Marlborough, and her quest to find meaning behind "the glitter and the gold." On a cold November day in 1895, a carriage approaches St Thomas Episcopal Church on New York City's Fifth Avenue. Massive crowds surge forward, awaiting their glimpse of heiress Consuelo Vanderbilt. Just 18, the beautiful bride has not only arrived late, but in tears, yet her marriage to the aloof Duke of Marlborough proceeds. Bullied into the wedding by her indomitable mother, Alva, Consuelo loves another. But a deal was made, trading some of the vast Vanderbilt wealth for a title and prestige, and Consuelo, bred to obey, realizes she must make the best of things. At Blenheim Palace, Consuelo is confronted with an overwhelming list of duties, including producing an "heir and a spare," but her relationship with the duke quickly disintegrates. Consuelo finds an inner strength, charming everyone from debutantes to diplomats including Winston Churchill, as she fights for women's suffrage. And when she takes a scandalous leap, can she hope to attain love at last…? From the dawning of the opulent Gilded Age, to the battles of the Second World War,
American Duchess
is a riveting tale of one woman's quest to attain independence—at any price.

Purchase Links
About Karen Harper
New York Times
and
USA Today
bestselling author KAREN HARPER is a former Ohio State University instructor and high school English teacher. Published since 1982, she writes contemporary suspense and historical novels about real British women. Two of her recent Tudor-era books were bestsellers in the UK and Russia. Harper won the Mary Higgins Clark Award for
Dark Angel
, and her novel
Shattered Secrets
was judged one of the best books of the year by
Suspense Magazine
. Find out more about Karen at her
website
, and connect with her on
Facebook
.