Map of the Heart seamlessly blends a contemporary family drama with a stirring World War II drama.

It is a fascinating story that draws the reader into two worlds.
Camille Adams was tragically widowed five years before.

She has been unable to move on since this tragic event and hovers over her daughter Julie, seeing danger in every corner.

Julie is a teenager going through an awkward phase and is facing bullying at school.

She wishes she could get away from her life and opportunity arises when her grandfather yearns to return to his boyhood home in France.

He had received a package of his mother's possessions and they revealed a mystery of what happened during World War II.

Camille, Henry, and Julie set off for France. They are assisted in France by the handsome professor, Finn, who will help them unlock the secrets of Henry's parent's past.

What will they find?

Will Camille be able to move on?

Will Henry and Julie be able to find themselves?

What exactly happened to Camille's husband five years before?
While the majority of this novel is set in the present, there are segments of the book told from Lisette's, Henry's mother, point of view in the past during World War II in France.

Lisette is a young French woman facing a perilous future.

After her father's accident, he cannot work, and the family faces starvation.

After her young Jewish friend has been carted off, she agrees to marry Didier Palomar, the mayor of her town.

He seems her savior, but their marriage is a cold one devoid of love.

As Palomar becomes a collaborator, Lisette does what she can to fight the resistance.

Why did Henry grow up an orphan?

What happened to his parents during WWII?
I loved this novel.

Wiggs is a wonderful writer and I enjoyed the generational family drama.

I usually like the stories set in the past more, but in this case, I wanted to know what would happen to all characters, past and present.

I found the mystery to be intriguing, but even more so, I wanted to know how our characters would be able to deal with their problems and move on with their lives.
"Camille could smell matchmaking a mile off. Her mom and friends and half-sisters abhorred a single woman's status the way nature abhorred a vacuum."
"Opening up is a risky process.

But then, staying closed up creates its own kind of pain."
"He had been at war less than a year, and he already knew that the real heroes were not the generals and battle commanders, but the everyday soldiers and common folk who endured the war, day in and day out, often fighting just to stay alive, and burying their dead along the way."
Overall, Map of the Heart is a wonderful book about the hard choices we all face to accept our past and move on to the future.
Book Source:

Review Copy from William Morrow Books for being a part of the TLC Book Tour.

Thank-you!
For more stops on the tour, check out this link:

Purchase Links
]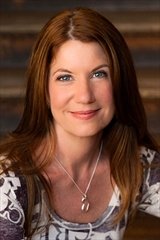 Photo by Yvonne Wong[/caption]
About Susan Wiggs
Susan Wiggs's life is all about family, friends…and fiction. She lives at the water's edge on an island in Puget Sound, and in good weather, she commutes to her writers' group in a 21-foot motorboat. She's been featured in the national media, including NPR, PRI, and
USA Today
, has given programs for the US Embassies in Buenos Aires and Montevideo, and is a popular speaker locally, nationally, internationally, and on the high seas. From the very start, her writings have illuminated the everyday dramas of ordinary people facing extraordinary circumstances. Her books celebrate the power of love, the timeless bonds of family and the fascinating nuances of human nature. Today, she is an international best-selling, award-winning author, with millions of copies of her books in print in numerous countries and languages. According to
Publishers Weekly
, Wiggs writes with "refreshingly honest emotion," and the
Salem Statesman Journal
adds that she is "one of our best observers of stories of the heart [who] knows how to capture emotion on virtually every page of every book."
Booklist
characterizes her books as "real and true and unforgettable." Her novels have appeared in the #1 spot on the
New York Times
Bestseller List, and have captured readers' hearts around the globe with translations into more than 20 languages and 30 countries. She is a three-time winner of the RITA Award,. Her recent novel,
The Apple Orchard
, is currently being made into a film, and The Lakeshore Chronicles has been optioned for adaptation into a series. The author is a former teacher, a Harvard graduate, an avid hiker, an amateur photographer, a good skier and terrible golfer, yet her favorite form of exercise is curling up with a good book. She lives on an island in Puget Sound, where she divides her time between sleeping and waking. Visit her website at
www.SusanWiggs.com
, and connect with Susan on
Facebook
,
Twitter
, and
Instagram
.