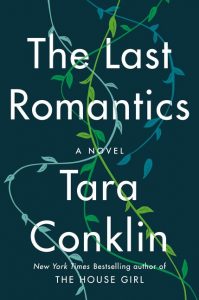 The Last Romantics is a beautifully written family drama novel.

Fiona is a 102-year-old author living in a future dystopian world.

At a speaking session, an audience member asks her about the Luna of her famous poem and where it came from.

Fiona goes into her history growing up to tell the story of Luna.
Fiona was the youngest of four children born in 1977.

After her father passes away suddenly in 1981, the family is thrown into chaos. Their mother, Noni, sinks into a deep depression that lasts three years, called "the pause" by the family in the future.

Oldest daughter Renee tries to keep the family together with the help of the second oldest daughter, Caroline.

Their brother Joe finds solace in playing baseball while youngest Fiona runs feral.

The lasting impressions from this period of their life follow all four siblings as they grow older.

The book explores their relationships and their exploration of love through their lives, all while searching for the answer to the question, "Who was Luna?"
I enjoyed the journey of this novel and looked forward to picking it up each night to continue the absorbing story.

I think I was even more enthralled with the story as I was born in 1978 as the oldest of four children, also three girls and a boy.

The timeline of their lives and the period of history that they lived through was very relatable.

As an environmental engineer, I also loved Fiona's work for the environment and to the future dystopia being at least in part because of our disregard to the environment.

It was very believable future world.
My only negative of this novel was the you didn't really know Joe.

The sisters all had their own stories and point of view, but Joe never did.

Joe was a golden boy who had too much of a burden placed on him in his youth and he flamed out as an adult.

I understood it and really enjoyed the story, but I also felt like I hadn't really connected with Joe as I did with all the other characters.

This probably was on purpose as he was always untouchable and not quite understood.
I had a lot of favorite quotes in the book.

It was a beautifully written book exploring love.

Family love, parental love, and romantic love.
"It's possible to exist under any number of illusions, to believe so thoroughly in the presence of things you cannot see – safety, God, love – that you impose upon them physical shapes.

A bed, a cross, a husband."
"Back then I was a romantic.

I didn't understand that there's no stopping betrayal. If you live long enough and well enough to know love, its various permutations and shades, you will falter."
"I will tell you this. The love of your life is always the one you have betrayed the most.

The love that defines you is the one upon whom you once turned your back."
"I believe now that certain events are inevitable.

Not in a fateful way, for I have never had faith in anything but myself, but int eh way of human nature.

Some people will choose, again and again, to destroy what it is they value most."
"We believe in love because we want to believe in it.

Because really what else is there, amid all of our glorious follies and urges and weaknesses and stumbles? The magic, the hope the gorgeous idea of it.

Because when the lights go out and we sit waiting in the dark what do our fingers see?

Who do we reach for?"
Overall, The Last Romantics it was a beautifully written book exploring the many dimensions of love.

It is a great family drama and I loved learning the answer to the mystery as it slowly unfolded through the novel.
Book Source:

Review Copy from William Morrow Books for being a part of the TLC Book Tour.

Thank-you! For more stops on this tour, check out this link.
About The Last Romantics
• Hardcover:
368 pages
• Publisher:
William Morrow (February 5, 2019)
"Tara Conklin is a generous writer who deftly brings us into the world of this fictional family, an engrossing and vivid place where I was happy to stay. The Last Romantics is a richly observed novel, both ambitious and welcoming." -- Meg Wolitzer
The
New York Times
bestselling author of
The House Girl
explores the lives of four siblings in this ambitious and absorbing novel in the vein of
Commonwealth
and
The Interestings.
"The greatest works of poetry, what makes each of us a poet, are the stories we tell about ourselves. We create them out of family and blood and friends and love and hate and what we've read and watched and witnessed. Longing and regret, illness, broken bones, broken hearts, achievements, money won and lost, palm readings and visions. We tell these stories until we believe them."
When the renowned poet Fiona Skinner is asked about the inspiration behind her iconic work,
The Love Poem
, she tells her audience a story about her family and a betrayal that reverberates through time. It begins in a big yellow house with a funeral, an iron poker, and a brief variation forever known as the Pause: a free and feral summer in a middle-class Connecticut town. Caught between the predictable life they once led and an uncertain future that stretches before them, the Skinner siblings—fierce Renee, sensitive Caroline, golden boy Joe and watchful Fiona—emerge from the Pause staunchly loyal and deeply connected. Two decades later, the siblings find themselves once again confronted with a family crisis that tests the strength of these bonds and forces them to question the life choices they've made and ask what, exactly, they will do for love.
A sweeping yet intimate epic about one American family,
The Last Romantics
is an unforgettable exploration of the ties that bind us together, the responsibilities we embrace and the duties we resent, and how we can lose—and sometimes rescue—the ones we love. A novel that pierces the heart and lingers in the mind, it is also a beautiful meditation on the power of stories—how they navigate us through difficult times, help us understand the past, and point the way toward our future.
Social Media
Please use the hashtag #thelastromantics and tag @williammorrowbooks, @taraconklinauthor, and @tlcbooktours.

Purchase Links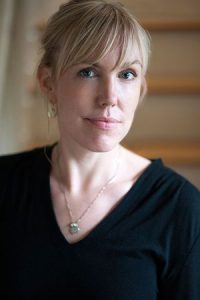 Photo by Mary Grace Long
About Tara Conklin
Tara Conklin has worked as a litigator in the New York and London offices of a corporate law firm but now devotes her time to writing fiction. She received a BA in history from Yale University, a JD from New York University School of Law, and a Master of Arts in Law and Diplomacy from the Fletcher School at Tufts University. Born in St. Croix, she grew up in Massachusetts and now lives with her family in Seattle, Washington. Find out more about Tara at her
website
, and connect with her on
Facebook
,
Twitter
, and
Instagram
.