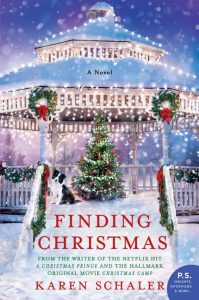 I LOVE Christmas novels and movies.

Karen Schaler is the perfect Christmas author as she not only wrote a Christmas novel I enjoyed last year, Christmas Camp, but she also wrote a Netflix movie my daughter I love, The Christmas Prince.

Finding Christmas is her new novel this year and I was overjoyed to be able to read it.
Emmie loves Christmas.

After losing her parents in a terrible car crash, she keeps their memories alive and their joy of Christmas with her own celebrations.

She has a very busy schedule running a community center, but she takes time out to plan a special romantic Christmas vacation with her equally busy boyfriend, Grant, so that they can create new Christmas memories together.
She starts their vacation off by leaving him a scavenger hunt to figure out where they will meet in the quant town of Christmas Point.

Unfortunately, author Sam who lives in Grant's building, is delivered the first clue.

He has been struggling with the loss of his sister and trying to find inspiration for a new novel.

When he finds the clues and follows along on the scavenger hunt, he finally feels inspired again.

What will happen when Sam and Emmie meet?

Will Grant make it to Christmas Point?
I really enjoyed this novel.

It was a cute story.

I loved the sentimentality, and the romance.

I loved the joy of Christmas and what it really means for family and friends.

I also loved that it showed it that the spirit of giving and helping out those in need can make your Christmas brighter.

I enjoyed all of the characters and thought they were well written down to the excellent dog Dash.

I want to stay in Christmas Point!!
I must admit thought my favorite part of the book was when Emmie is watching Christmas movies with a friend.

They go through a list of some of my favorite movies as well, and then they tongue in cheek mention The Christmas Prince and Christmas Camp.

I laughed out loud!!
"I don't want these tears.

I don't want to be sad.

I want to remember all the joy and love. I like to think the people we've lost are still with us, watching down on us, guiding us."
"That's not crazy, that's Christmas!"
"As they kissed, Emmie knew without a doubt that she'd found the right person to spend Christmas with, now and forever."
Overall, Finding Christmas is a perfect Christmas novel to get you in the mood for the holidays.

If you love Hallmark Christmas movies, you will love Finding Christmas.
Book Source:

Review Copy from William Morrow as part of the TLC Book Tour.

Thank-you! For more stops on this tour, check out this link.
About Finding Christmas
• Paperback:
384 pages
• Publisher:
William Morrow Paperbacks (October 15, 2019)
With all the glittering decorations, twinkling lights, snow angels, gingerbread men and mistletoe, Christmas is Emmie's first love.
This year, she can't wait to share her favorite Christmas traditions with her boyfriend, Grant. She thinks he's "the one." So when Grant's hectic work schedule has him more "Bah Humbug" than "Ho, Ho, Ho," Emmie creates a holiday-themed scavenger hunt to help him find his Christmas spirit. At the end of the journey, Grant will arrive at the charming town of Christmas Point where she's planned a romantic weekend filled with holiday activities.
But Emmie's plan backfires when a mix-up has the wrong guy following her clues! Sam, a best-selling mystery writer, thinks Emmie's clever Christmas riddles are from his agent, who is trying to help him get over his epic writer's block.
When he arrives at Christmas Point and finds the stunned Emmie, he immediately feels she's someone special, but she can't see beyond the fact that the wrong guy has shown up. Inspired by the small, charming town, Sam decides to stay and convinces Emmie to join him in a little holiday fun while she waits for Grant.
When Grant finally shows up, Emmie is disappointed to discover he's not enjoying the activities she planned and can't help wonder if he's really the one for her. She also can't get Sam out of her mind and all the great times they had together. With Christmas coming fast, Emmie will need the magic of the season to help steer her in the direction of true love…

Purchase Links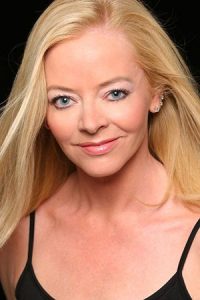 Photo 2018 by Scott Foust[/caption]
About Karen Schaler
Karen Schaler is a three-time Emmy Award–winning storyteller, author, screenwriter, journalist, and national TV host. She has written original screenplays for Netflix, Hallmark, and Lifetime Christmas movies, including the Netflix sensation
A Christmas Prince.
Karen wrote the Hallmark movie and novel
Christmas Camp,
and the sequel novella,
Christmas Camp Wedding.
Traveling to more than sixty-five countries as the creator and host of
Travel Therapy TV,
Karen is constantly inspired by the diverse people, places, and cultures she encounters. All of Karen's stories are uplifting, filled with heart and hope.
Find out more about Karen at her
website
, and connect with her on
Facebook
,
Twitter
,
Instagram
, and
YouTube
.