Do you like psychological thrillers?
What are some of your favorites?
The Killing Kind was just the kind of thriller I needed right now.

Ingrid Lewis is a barrister (lawyer) in London.

She successfully defends her client John Webster against a stalking claim only to have him turn around and stalk her.

Ingrid manages to keep her career intact, but she loses her home, fiancé, and pet.

When an acquaintance that borrowed her umbrella dies in an accident, she is convinced it was John Webster is behind it. She grows suspicious of everyone including her overly friendly neighbor and a cop that wants to help her out. When John Webster warns her that there are others out to get her, who can she trust?
The Killing Kind is a very engaging novel. The timeline is not quite linear as the story is filled in. You can feel Ingrid's paranoia, but at times you wonder, is it all just paranoia? I guessed some of the ending, but not all of it and was intrigued as the pieces of the puzzle fell into place. The book moves along quickly. I liked that Ingrid was a strong character. I was disturbed by the stalking and feeling of powerlessness. John Webster kept going everything just short of getting caught.
Favorite Quotes:
"I think about death a lot, but I was not thinking about it the day it came for me." – Great First Line!
"Losing is part of the job but winning is better."
Overall, The Killing Kind is a thrilling and engaging new novel.
Book Source: Review Copy from Harper Collins as a part of the TLC Book Tour. Thank-you!
• Publisher: HarperCollins (September 21, 2021)
•
Hardcover
: 480 pages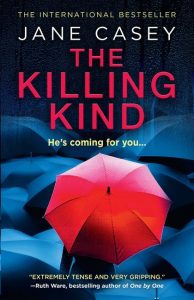 He tells you you're special…
As a barrister, Ingrid Lewis is used to dealing with tricky clients, but no one has ever come close to John Webster. After Ingrid defended Webster against a stalking charge, he then turned on her – following her, ruining her relationship, even destroying her home.
He tells you he wants to protect you… Now, Ingrid believes she has finally escaped his clutches. But when one of her colleagues is run down on a busy London road, Ingrid is sure she was the intended victim. And then Webster shows up at her door…
But can you believe him? Webster claims Ingrid is in danger – and that only he can protect her. Stalker or saviour? Murderer or protector? The clock is ticking for Ingrid to decide. Because the killer is ready to strike again.

Purchase Links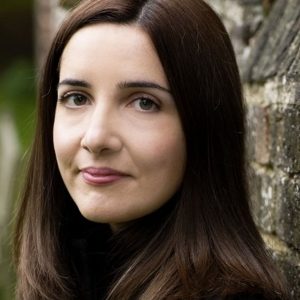 Photo Credit: Annie Armitage[/caption]
About Jane Casey
JANE CASEY is the author of the Maeve Kerrigan novels (
Let the Dead Speak
,
After the Fire
) and the Jess Tennant Mysteries (
Hide and Seek
,
Bet Your Life
). A graduate of Oxford she also has received a M. Phil from Trinity College, Dublin. Born and raised in Dublin, she lives in London where she works as an editor. Find out more about Jane on her
Twitter
and
Facebook
.