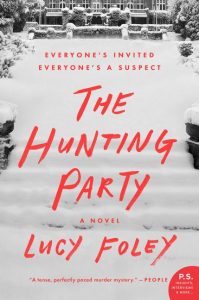 Are you looking for a good mystery or suspense story to keep you on the edge of your seat?

The Hunting Party is a riveting "house party" type mystery.

It is an Agatha Christie novel mixed with You by Caroline Kepnes.
Four couples and their one single friend get together each New Year's for a party.

They are old Oxford college friends and have stayed together as friends through the years.

This year the party has been planned at a remote lodge in Scotland.

The Lodge is owned by someone in London and run by Heather and Doug, two lonely souls with mysterious pasts.

Doug and Heather narrate alternate chapters in the future after a dead body has been found as they try to put together what happened.

The past is narrated by three women from the group, Miranda, Emma, and Katie.

All are trapped at the Lodge by a snowstorm when the murder happens. Who has been murdered and why?
I love the short chapters that kept the action moving.

The characters were interesting and one was very vividly drawn in particular.

I did not see where this book was going.

I love when a novel can capture my interest and still surprise me at the end.

This was one of the best mysteries I have read in the past few years.
"I suppose we all carry around different versions of ourselves."
"Wounds inflicted at that sort of raw, unformed time in our lives tend to cut the deepest – and leave the worst scars."
Overall, The Hunting Party was a great suspense novel.

Do we really know our friends?
Book Source:

Review Copy as part of the TLC Book Tour. For more stops on this tour, check out this link.
About The Hunting Party
• Paperback:
352 pages
• Publisher:
William Morrow Paperbacks; Reprint edition (March 3, 2020)
"My favorite kind of whodunit, kept me guessing all the way through, and reminiscent of Agatha Christie at her best -- with an extra dose of acid." -- Alex Michaelides, author of the #1 New York Times bestseller The Silent Patient
Everyone's invited...everyone's a suspect...
For fans of Ruth Ware and Tana French, a shivery, atmospheric, page-turning novel of psychological suspense in the tradition of Agatha Christie, in which a group of old college friends are snowed in at a hunting lodge . . . and murder and mayhem ensue.
All of them are friends. One of them is a killer.
During the languid days of the Christmas break, a group of thirtysomething friends from Oxford meet to welcome in the New Year together, a tradition they began as students ten years ago. For this vacation, they've chosen an idyllic and isolated estate in the Scottish Highlands—the perfect place to get away and unwind by themselves.
They arrive on December 30th, just before a historic blizzard seals the lodge off from the outside world.
Two days later, on New Year's Day, one of them is dead.
The trip began innocently enough: admiring the stunning if foreboding scenery, champagne in front of a crackling fire, and reminiscences about the past. But after a decade, the weight of secret resentments has grown too heavy for the group's tenuous nostalgia to bear. Amid the boisterous revelry of New Year's Eve, the cord holding them together snaps.
Now one of them is dead . . . and another of them did it.
Keep your friends close, the old adage goes. But just how close is too close?

Purchase Links
About Lucy Foley
Lucy Foley
studied English literature at Durham University and University College London and worked for several years as a fiction editor in the publishing industry. She is the author of
The Book of Lost
and
Found
and
The Invitation
. She lives in London. Follow Lucy on
Twitter
and
Facebook
.