I love history. I've loved to read biographies and non-fiction history since I was a child. As Veteran's day comes around in November, I love to read about early American history. The Patriots was a very interesting read about the founding of the United States.
Author Winston Groom focuses on three of the major people who worked to found our nation and make it is what it is today: Alexander Hamilton, Thomas Jefferson, and John Adams. The first three chapters tackle each of the three men and gives their early history through the American Revolution. In alternating chapters after that, the book details how the men helped in their own unique way to build the country after winning the revolution. There is also a great center section of pictures showing paintings of the men and where they lived.
I enjoyed The Patriots. Groom was able to put together an interesting and very readable book that highlights the major accomplishments and trials of these three founding fathers. I have often pondered about how such uncommon individuals were able to all be together at exactly the right time in our history. This book tells how these three grew into the men they became and were able to create "a more just and promising world."
Favorite Quotes:
"A man of striking intelligence, remarkable presence, and driving ambition, Alexander Hamilton tried to outrun his unpropitious beginnings most of his life."
"It wasn't only his writing ability but his reasoning ability that allowed Hamilton to achieve what Washington described as 'thinking as one.'"
"John Adams was obnoxious. He said so himself. He talked too much and wrote that he wished he didn't. He was irritable and wished he wasn't. He did not suffer fools glad (and his notion of a fool was set at a very low bar). But he was brilliant and well-read and energetic to a fault – 'a great-hearted, persevering man of uncommon ability and force . . . He was hones and everyone knew it.'"
"Thomas Jefferson was a true Renaissance man."
Overall, The Patriots is a good history of three important men from very different backgrounds and how they were able to compromise to bring out country to fruition.
Book Source: A Review from Hachette Book Group as part of the TLC Book Tour. More more stops on this tour, check out this link.


About The Patriots
• Hardcover: 464 pages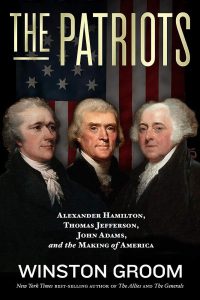 • Publisher:

National Geographic (November 3, 2020)
In this masterful narrative, Winston Groom brings his signature storytelling panache to the tale of our nation's most fascinating founding fathers--Alexander Hamilton, Thomas Jefferson, and John Adams--painting a vivid picture of the improbable events, bold ideas, and extraordinary characters who created the United States of America.
When the Revolutionary War ended in victory, there remained a stupendous problem: establishing a workable democratic government in the vast, newly independent country. Three key founding fathers played significant roles: John Adams, the brilliant, dour New Englander; Thomas Jefferson, the aristocratic Southern renaissance man; and Alexander Hamilton, an immigrant from the Caribbean island of Nevis. In this riveting narrative, best-selling author Winston Groom illuminates these men as the patriots fundamentally responsible for the ideas that shaped the emerging United States. Their lives could not have been more different, and their relationships with each other were often rife with animosity. And yet they led the charge--two of them creating and signing the Declaration of Independence, and the third establishing a national treasury and the earliest delineation of a Republican party. The time in which they lived was fraught with danger, and their achievements were strained by vast antagonisms that recall the intense political polarization of today. But through it all, they managed to shoulder the heavy mantle of creating the United States of America, putting aside their differences to make a great country. Drawing on extensive correspondence, Groom shares the remarkable story of the beginnings of our great nation.

Purchase Links
About Winston Groom
WINSTON GROOM
was born in Washington, D.C., but grew up in Mobile, Alabama, on the Gulf Coast. After a brief period in the Army, Groom returned to Washington, where he worked as a reporter at the
Washington Star
, covering the political and court beat. He enjoyed a stint in New York City, befriending and socializing with literary legends before returning to Alabama, where he settled down to writing and enjoying life. He is the author of 18 previous books, including
Forrest Gump
and
The Aviators
.