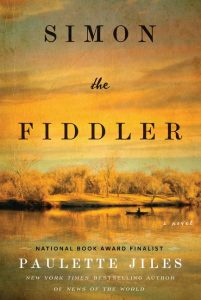 In 1865, Simon Boudlin has managed to evade conscription by the Confederate Army as he travels around the South earning his living through playing beautiful and rousing tunes on his fiddle.

His luck runs out and he is conscripted at the end of the war into the Confederate Army as a fiddler and takes part in one last battle, the Battle of Los Palmitos.

Afterwards, Simon puts together a rag tag band of former confederates and union soldiers to earn a living playing at a variety of events.

At one such event, Simon sees Doris Mary Dillon and is instantly smitten.

Doris is an Irish governess for a Union Colonel's family. She is indentured under a three-year contract and has to endure harsh treatment from the Colonel.

Simon dreams of owning his own piece of land and of marrying Doris.

Will Simon be able to fulfill his dreams?
I loved this book. It was beautifully written; I liked to slowly read and savor each sentence. It was told in a style of vignettes of different points in Simon's journey through Texas.

I loved how times were harsh, but Simon and his band had to pull things together to survive.

Will they have enough food?

Will yellow fever carry them all off?

Where will they live?

What will they do without papers showing a formal dismissal from the army?

I also loved Doris's journey.

It would be strange to be an immigrant in a strange land under the control of someone who has anger issues and that you have to be worried about trying to molest or rape you.

She had joy in life and was tamped down by the Colonel.

The old fashion romance between her and Simon through letters was very enjoyable.

The story was mostly told through Simon's point of view, but also was told through her point of view as well.

I enjoyed how the story unfolded and gave us deeper background on characters as the story progressed.

I also loved the map on the inside cover of the book.

I looked at it often to think about and visualize Simon's journey.
I have not read Jiles's novel News of the World, but I need to move it further up my to read list.

The only downfall of Simon the Fiddler was that it ended.

I wanted to continue the journey of Simon and Doris.
What are your favorite novels of the Civil War, musicians, or the frontier?
"They were living in a world of returned soldiers who had fought, had seen death and destruction, suffered hunger and want, and were not afraid of Satan himself."
"The Long Battle cries of the war had faded and now life settled down the way a bombed building settles down, extinguishing all the lamps as the walls fold in and it was a every man for himself, a kind of societal darkness or twilight that would take a long time to lift."
"He was born into a world of horse traders and was well acquainted with deception and the need for caution at every step when it came to buying and selling."
"He saw all the hard road before them unrolling like a scroll and their names there, for better or for worse, written in the Book of Life."
Overall, Simon the Fiddler was a beautifully written novel with unforgettable characters set at the end of the Civil War.

During uncertain times, Simon was able to realize what he truly wanted out of life and was able to work towards that goal no matter what hurdles life threw at him.

This is a quintessential American story.
Book Source:

Review Copy from William Morrow for being a part of the TLC Book Tour. Thank-you! For more stops on this tour, check out this link.
About Simon the Fiddler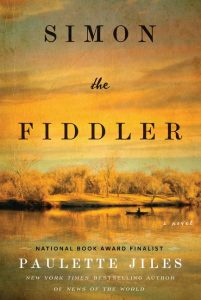 • Hardcover:
352 pages
• Publisher:
William Morrow (April 14, 2020)
The critically acclaimed, bestselling author of News of the World and Enemy Women returns to Texas in this atmospheric story, set at the end of the Civil War, about an itinerant fiddle player, a ragtag band of musicians with whom he travels trying to make a living, and the charming young Irish lass who steals his heart.
In March 1865, the long and bitter War between the States is winding down. Till now, twenty-three-year-old Simon Boudlin has evaded military duty thanks to his slight stature, youthful appearance, and utter lack of compunction about bending the truth. But following a barroom brawl in Victoria, Texas, Simon finds himself conscripted, however belatedly, into the Confederate Army. Luckily his talent with a fiddle gets him a comparatively easy position in a regimental band.
Weeks later, on the eve of the Confederate surrender, Simon and his bandmates are called to play for officers and their families from both sides of the conflict. There the quick-thinking, audacious fiddler can't help but notice the lovely Doris Mary Dillon, an indentured girl from Ireland, who is governess to a Union colonel's daughter.
After the surrender, Simon and Doris go their separate ways. He will travel around Texas seeking fame and fortune as a musician. She must accompany the colonel's family to finish her three years of service. But Simon cannot forget the fair Irish maiden, and vows that someday he will find her again.
Incandescent in its beauty, told in Paulette Jiles's trademark spare yet lilting style,
Simon the Fiddler
is a captivating, bittersweet tale of the chances a devoted man will take, and the lengths he will go to fulfill his heart's yearning.

Purchase Links
About Paulette Jiles
Paulette Jiles is a novelist, poet, and memoirist. She is the author of
Cousins
, a memoir, and the novels
Enemy Women, Stormy Weather, The Color of Lightning, Lighthouse Island
, and
News of the World
, which was a finalist for the 2016 National Book Award
.
She lives on a ranch near San Antonio, Texas. Find out more about Paulette at her
website
.
Photo by Jill Gann